Here is some information about who we are, our interests and values. You are welcome to get in touch with questions or ideas. See below for our child protection officer.
Who are we?
We are a congregation of the Presbyterian Church of Aotearoa New Zealand. We are on the north shore in Auckland. The parish includes Beach Haven, Birkdale, Birkenhead, Northcote, Hillcrest and some of Glenfield. The people in our community value being able to share their evolving spiritual awareness. We aim to do so without judgement. We are open-minded and like talking with each other. We'd love to welcome you and hear your story.
We are committed to applying the teachings and example of Jesus in everyday life. Accordingly, we are big on inclusiveness, collaboration and interfaith respect.
Onewa Christian Community is all about people working together. Members directly elect our Church Council governance group. Leaders ('elders') and members are active across all our activities.
The members of the ministry team are: Rev. Jin Sook Kim, Minister; Dr Greg Morgan, Director of Community Engagement (also, our child protection officer); Rev. Robyn Allen Goudge, Music Director; Pauline Soo, Administrator (part-time).
Please contact us at any time.
Rev. Jin Sook's number is 021 0295 2589. For Greg or general enquiries, phone 021 0919 7097.
More about Onewa Christian Community
You might like to worship with us and see if our services meet your needs. We welcome children and people of all ages and stages.
We aspire to be an active and innovative Christian community that provides leadership and builds partnerships in our fast-changing world. – Our vision (adopted 2021)
Our values
Community

We focus on people, personal connection and treating everyone with respect in practical ways ('manaakitanga').

Diversity and inclusion

We want to reflect and support the community around us.

Open heart / open mind

We make space for personal and spiritual growth. We promote real and meaningful connection with others.

A living faith

Active faith begins at the point where certainty ends. A living faith involves faith in oneself, faith in others, faith in the future and faith in God.
Our mission
To achieve our vision, we will:
be innovative in our approach to life and worship
demonstrate our willingness to share life experiences and spiritual awareness, promoting the teaching and practice of Jesus
seek out opportunities to promote inclusiveness, interfaith awareness and collaboration, especially through partnerships with local community organisations
be visible in the community as we live our values.
How we got here
In 2021 the Community of St Aidans, Northcote (founded in 1888) and St Andrews Presbyterian Church in Birkenhead (founded in 1914) pooled their energies to create a new kind of church.
The two congregations merged following a facilitated Circle of Trust® process. Retreats gave participants an opportunity to dream big for a new church. Priorities emerged through conversation together. These were: growing community, making new connections, good communication, a new expression of faith and using resources well. Those priorities set the foundation for the vision, mission and values shown above.
Our logo
It's different by design! The larger area served by Onewa Christian Community is surrounded by sea. The sea is ever flowing; waves constantly build and ebb. This tidal movement is depicted in the waves. A leaf (or a large feather?) is another nature element. Trees grow around us. This leaf is free, carried along by the breeze above the surface of the water. The water? Well, is it the sea? It could be one of the streams flowing through our urban landscape; the leaf detached from an overhanging tree. Note the leaf shape connects with the 'i' in 'community.' So there is connectedness, perhaps an anchoring. Yet the leaf shape is open at the top, expressive of upward movement and open-endedness. There is space for more.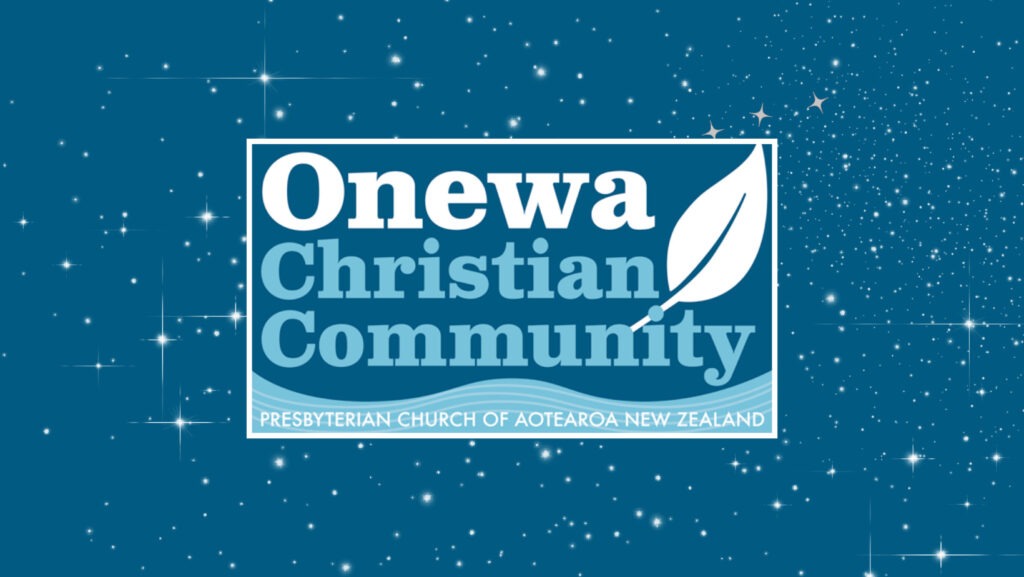 Child protection officer
Greg is our child protection officer. Please contact him or our Minister, Rev. Jin Sook Kim, if you wish to discuss a concern.